Categories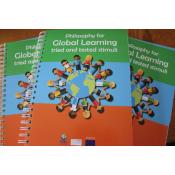 Philosophy for Global Learning: Tried and Tested Stimuli
Now reprinted, this popular teachers' aid - Philosophy for Global Learning - is available once again to purchase from CDEC.
If you want to teach global awareness to children through the structure of Philosophy for Children, (P4C), this is the perfect resource. It is a flexible and practical resource for teachers of all levels of experience. Philosophy for Global Learning is aimed for use with children in Key Stage 2 but some parts can be used with younger children.
Divided into three sections, with an introduction, P4C Session and resources, much of the P4C session section has split pages to help you mix and match activities and stimuli.
---