Categories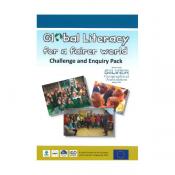 Global Literacy for a Fairer World (Challenge and Enquiry Pack)
This resource pack for teachers will help you and your children learn more about global issues, tackling poverty and taking action to make the world a fairer place.
You will find that the resource aims to help you:
help children understand the interdependence between Europe and the global south and make progress is taking meaningful action to support global justice
be better equipped to challenge myths about development, food security, trade, environment and poverty issues through your teaching.
The Challenge and Enquiry Pack is split into accessible sections, with each chapter being colour coded and each lesson plan following the same format. In total, you will find 10 generic global activities based on the three broad themes of global thinking, critical thinking and how to take action. There are 10 lessons of 50-60 minutes.
---